Counting system
We have started off with a pilot project with our customer regarding a counting system. With this we wanted to gain insight into whether the production is being achieved. After all, it can have various reasons why the production would not be achieved, some examples can be found below:
Machine malfunctions
New staff
Limited supply of products
After the pilot had been successful, we received permission to provide the entire hall with the counting system. For this we have installed a CSP (Control Starter Panel) with the main control. A Remote IO (input / output) panel is placed at each machine line. By placing multiple HMIs (Human Machine Interface), the staff also has insight into whether the goal is being achieved or not. The number of HMIs depends on the machine line.
Triqua International – Azerbaijan
In collaboration with Triqua International, an adjustment was realised on site in Azerbaijan. The project concerns an existing "waste water treatment". Since this old type of HMI is no longer available, a new application had to be realised. A number of objects could be scaled, others had to be adjusted. It was necessary to test the functionality properly in order to be fully operative again. As a result, the customer is again saved and is therefore not necessary to replace the entire control system.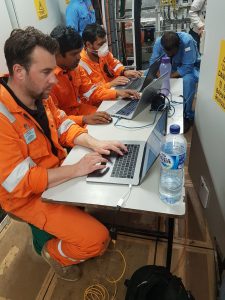 Gooiland Elektro – Singapore
On behalf of Gooiland Elektro on site in Singapore, actively testing signals between two systems. This will transmit the important signals from the system to an supervisory system. After successful testing, we can then handover the entire system to the end customer.
EKB – Cranes
On behalf of EKB realised an adjustment to an existing crane control. The end customer was not satisfied with the current control system. Initially, other functionality was removed and the controls simplified. We were then instructed to replace the HMI per crane in order to be able to indicate a clear error message instead of just an error code. This makes the day of the operators a lot more pleasant.